Discover more from Bedtime Baseball
Currently serving Mets, Nats, and Orioles fans.
Walking Brandon, Running Nimmo
Celebrating wins, big and small
Introduction (For the Grown Ups)
Tonight we have a story about about a fish, a centerfielder, and walking (or not walking) and appreciating the small things. If this is your first time reading Bedtime Sports, (or you need a refresher) check out our "How To" post. 
Questions in italics are designed to spark a conversation. Encourage your audience to participate, but also feel free to answer the questions yourself and incorporate answers into the story.
The man dancing emoji (🕺) indicates a section where you can add kinetic elements to the story. Mime an action and encourage your audience to join in.
And don't forgot to follow us on Twitter and Instagram for fun activities and updates.
Happy story telling!
Walking Brandon, Running Nimmo
(5 minute read)
On the internet, Brandon Nimmo uses the username "YouFoundNimmo," because his name sounds like that movie about the fish that gets lost. Do you know which one I'm talking about?
Unlike the clownfish with the lucky fin, Nimmo isn't very hard to find, especially on the baseball field. With socks pulled up to his knees, and a huge smile which fills the whole bottom of his face, Brandon is a ball of energy flying all over the place. And good thing he has all that energy; as centerfielder for the Mets, he has more space to cover than anyone in the ballpark. Coming in on short fly balls, going back on long ones, jumping, leaping diving, Brandon has to try and get to every ball that's hit between right and left field. It doesn't get any easier when he gets off the field to take an at bat. As a leadoff hitter, it's his job to get on base and dash around the bases as the players behind him drive him in. Sometimes he makes spectacular plays that make me catch my breath. Sometimes he runs so much I think he needs to sit down and catch his breath.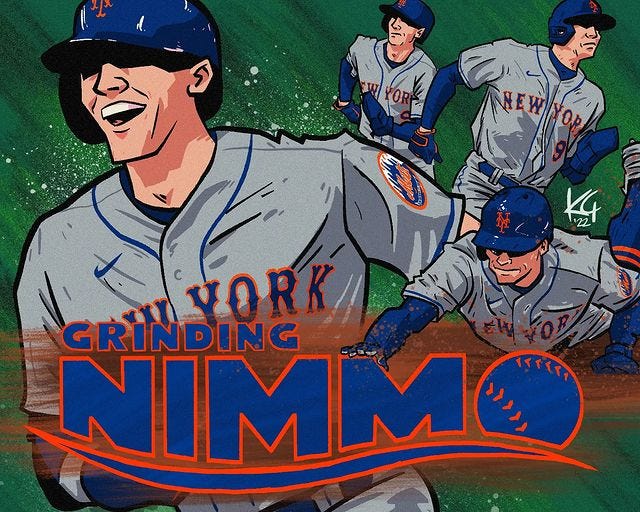 Have you ever run so hard that you had to stop and catch your breath?
What's the most out of breath you've ever been?
But all that energy and movement disappears into stillness when Brandon steps into the batter's box. If the pitcher throws a strike, Brandon is on it like a shark. But if the pitcher throws a ball, he keeps that bat on his shoulder and watches it whiz by.
"That's not so special," you might think, since no one is supposed to swing at a ball outside of the zone. 
But pitchers are tricky.
They throw balls that look like strikes until halfway to the plate, when bottom drops out or they start to slide sideways. Sometimes pitchers try and sneak a pitch juuust outside where the batter can reach it with a bat. If you watch enough baseball, you will see a lot of good hitters make silly swings. Hitting is tough.
Have your eyes ever been tricked into seeing something that was different than what you first thought it was?
People say that Brandon has a good eye, which means he is a tough guy to trick. On those borderline pitches, Brandon does not swing. On the bad pitches, he doesn't even move. And since he is so good at letting those bad pitches fly by, Brandon draws a lot of walks.
When a batter hits the ball, they have to run, because they are trying to get to first (or further!) before the ball gets thrown to the base. But when a batter watches four balls (AKA four bad pitches) go by, they are awarded a walk, the umpire lets them go to first, and there is nothing anyone can do to stop them. Since it's a free pass to first base, most batters take their time. 🕺🕺 They unstrap their shin guards and their elbow guards, and their batting gloves and hand them all to the bat boy🕺🕺. Then they jog down the line, relaxing a little bit after a tough at-bat. You didn't fool me that time. They might think. I earned this walk. After all, it's called a walk – it's the one part of the game when you're allowed to take it slow.
Knowing that he has to run so much everywhere else, you would think that Brandon would take it easy when given the chance. A WALK sounds like the perfect chance for him to take it easy and get a rest, don't you think?
But Brandon Nimmo does not walk. All that stillness in the batter's box turns right back into energy when Brandon draws a walk. Almost before the umpire makes the call, Brandon crouches like a bird about to fly and tosses his bat aside. Then in one smooth movement he spins away from the plate and sprints to first. Toss, zoom! Every time Brandon Nimmo gets a walk, without fail, toss, zoom! Sometimes it's so fast and unexpected that it catches the pitcher and the catcher off guard. Toss, zoom!
How come you think Brandon Nimmo runs to first on a walk when everyone else, well, walks?
According to Brandon, the first reason is "just in case." When Brandon played baseball as a little kid, every once in a while, that fourth ball would be so far outside that it would get away from the catcher. And since Brandon had already run to first, he could just keep on going and make it to second before the catcher ran back and picked it up. That doesn't happen as much in the majors, but Brandon still likes to run, just in case.
Is there anything you like to do, just in case?
(Using the restroom before long car rides is always a good "just in case")
But Brandon has another reason that he likes to sprint to first. Remember how tricky those pitchers are? In baseball, the pitcher usually wins. Even the best hitters strike out, fly out, or ground out more than half the time. So when Brandon "wins" an at-bat – when he can avoid all the bad pitches, and foul off the borderline ones, and avoid putting a bad swing on a pitch he doesn't like, that gets him excited. And when Brandon is excited, he lets it out by running full speed to first.
What was the last thing that made you so excited that you couldn't stay still?
Is it ok to be excited about small things, like drawing a walk?
Brandon may draw a walk more than 60 times every year, but you won't see him walk for a single one. He isn't gonna take any of his wins for granted. And neither should you. Toss, ZOOM!
Goodnight sport!
Thanks for reading Bedtime Baseball! Subscribe for free to receive new posts and support my work.
Sources
For tonight's story, Brandon Nimmo's "walks" to first are the primary inspiration!
But I couldn't have told you why he runs if not for some great questions but the incredible Steve Gelbs on this episode of "Around the Bases"
Art & Illustrations
Today's illustrations come courtesy of:
Joe Petruccio who has been doing game recap cartoons of Mets games for more than a decade. Black and white for a loss, and in color for a win. Here's hoping for some more color over the next couple of weeks.
Incredible designer and illustrator Kevin González and his comic book style Met's art
Digital artist Jeff Frandsen's digital card collection
and pop artist Bill Overholser. Check out his sports themed and general pages for a full collection of his work.
If you like an image - let an artist know, and be sure to let them know where you found them!
Stat Chat
Here is a picture of what is called a "Swing Profile" taken from the fantastic Mets Newsletter, Met's Fix. It compares Brandon Nimmo's swings on pitches in different zones in the 2021 season. The green outline shows the strike zone. The percentage in each little box is the percent of pitches that passed through that box that a batter swung at. How is Brandon different from the rest of the league? What about that difference might be good? What about that difference might be bad?
Vocab
Borderline means something that is right on the edge of something - like a pitch that is on the edge of being a ball or a strike.
On those borderline pitches, Brandon does not swing
Draw a walk. Draw is often used to mean creating an image, like to draw a picture, but it can also mean to pull something, like to draw a card, or draw a rabbit out of a hat. Batters aren't really in control of getting walks - they depend on the pitcher to throw balls outside of the strike zone. So we say "the pitcher walked the batter" but "the batter drew the walk," to say they kind of worked for it, but they also kind of got lucky.
(I think. I actually got really curious about this phrase researching this story and couldn't find a source for why we saw "Draw a walk." If you find one, please share in the comments!)
Brandon may draw a walk more than 60 times every year
AKA is and acronym for "Also Known As." Brandon Nimmo AKA Nemo AKA the Walk Machine AKA…
But when a batter watches four balls (AKA four bad pitches) go by, they are awarded a walk,
Additional Activities
What is a small thing that you might take for granted but that is worth celebrating? Tell your grown up and have them share in the comments below or let us know on social media.
More Story Ideas
Tell about something you used to take for granted but that you celebrate now

Tell a story about a time that you did something that made you super out of breath

What's something you do that might be just a little different than the way that everyone else does it. Do you have a reason for doing it differently?